What is Microblading?
Microblading has taken the beauty world by storm, and for good reason. It is a semi-permanent cosmetic tattooing technique that inserts pigment under your skin using a needle, giving you well-defined, natural-looking eyebrows.
As a leading beauty studio in Regina, we're proud to offer top-notch microblading services that can transform your brows and boost your confidence.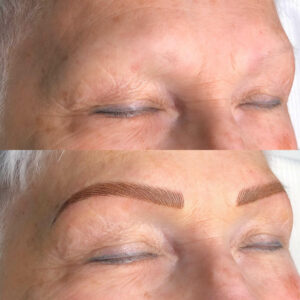 EFFORTLESS BEAUTY
By creating lifelike hair strokes that seamlessly blend with your natural brows, microblading gives you the appearance of fuller, perfectly shaped brows. Imagine waking up with flawlessly defined eyebrows every morning!
TIME-SAVING
Say goodbye to the daily struggle of filling in your eyebrows. With microblading, whether you're rushing to work, hitting the gym, or enjoying a night out, your eyebrows will always look on point.
Semi-Permanent Results
Microblading offers long-lasting results, typically more than 12 months. We also include a free touch-up appointment 6-12 weeks after your initial session to ensure your brows are perfect. 
When it comes to microblading, our team of skilled and certified technicians is committed to precision, hygiene, and client satisfaction. We are your top choice for the best microblading experience in Regina. Enhancing your beauty and confidence with flawless, customized brows!